Cleveland - NE Ohio Tub Cut Shower Conversions
Using your Existing Bathtub
Click to Call Jim now for a free quote!

Tub to Shower Conversions for Under $1000
Clevelanders and NE Ohio area seniors needing their bathtub converted for easier showering access now have an option over a costly bathroom remodel or tub replacement. Our local, ½ day, "no demo reno" tub-cut shower conversion prices start slightly above $900 - an affordable alternative for budget-minded seniors wanting to remain in their current homes!
By utilizing your existing tub (and plumbing), we avoid the aggravation, mess & potential costly surprises of a bathtub replacement or remodel. Our process begins with cutting and removing a front wall section from your tub to reduce your step in by 9". We then custom fit and seal a u-shaped acrylic step-thru insert into the opening. Our cuts leave a 3"-5" lip on the inside wall, so there is no water runoff onto your bathroom floor. And when the opening is covered by a shower curtain, the shower spray stays inside the tub. Call now for a free over-the-phone estimate.
With the step-in to your tub reduced, you'll have safer accessibility to your showering needs, giving you, your love-ones and caregivers greater peace of mind—all thanks to our non-evasive tub make-over system. And should there be a bather in the household, we offer options for quickly transforming the bathtub back to bathing in seconds.
Besides being fast and affordable, our tub to walk in shower modifications are applicable to most bathtubs, including cast iron (porcelain), steel and fiberglass. Moreover all services are performed by highly rated industry professionals.
Our service area extends westward from Parma Heights to Lorain-Elyria, south to the Akron-Canton & Medina areas and east from Mentor to the communities of Youngstown and into Erie PA. Call Jim now for a free over-the-phone estimate.
Summary: Tub Cut Conversions vs. Tub Replacement-Remodels
Affordable: save 80-85% off the cost of a tub to shower remodel

Fast: 3-5 hr. via professional installation
Step-ins Lowered to 4"-7"
Reversible: via an optional bath panel or a tub liner (BathFitter®)
Local Accredited 18 yr. Service Provider
Tub to Shower Costs and FAQs
Click on the questions below to reveal the answer.
How Much Does a

Tub to Shower Conversion Cost?
The cost for converting local steel and fiberglass bathtubs into a walk-in shower start just above $900. Cast iron tub conversions, because of the preparation and clean-up needed, as well as use of diamond-coated blades and tool wear, can run 15-25% higher. Of course, there are several variables in our cost algorithm, e.g. where is the tub located? nearby or in Erie, PA? Are there shower doors, a toilet or vanity that needs to be removed in order to make the cut, etc.? Models with door panels for bathing run about 50% more.
Since we can generally sense your situation from a picture, we may ask you to text us photos of your bathtub. This will help us give you a more accurate estimate. See Photo Estimating Pics.
Do Tub to Shower Conversions Qualify for

Medicare?
Unfortunately, tub to shower conversions fall into the category of remodeling, so Medicare will not reimburse. If you itemize taxes however, check with you tax preparer.
Veterans who served, and not necessarily in combat, during the Korean, Vietnam, Iraq, Afghanistan, etc. conflicts should contact the VA for possible funding. (This benefit generally extends to their spouses). Also, some communities such as Lakewood, Shaker Heights & the Geauga County Department on Aging offer some financial assistance to qualified seniors for home improvements that address accessibility in their homes. In 2022, Cuyahoga homeowners with property values up to $250K can apply for a low interest (0% - 3% / 10 yr. 2022) loans through the Cuyahoga County Housing Enhancement Loan Program available at most Key & Huntington Banks.
What is a

Walk/Step-Thru Insert?
The step-thru is an elongated u-shape piece of tough, durable ¼" thick acrylic material. It is custom-fitted and placed over an opening that we cut out from the side of your existing tub. We use QuickTub® Walk-thru Inserts in the majority of our installations. These inserts provide an approximate opening of 24" with a step-in of from 5″ - 7". Moreover, the QuickTub® Walk-thru Insert can be converted back to bathing anytime with the purchase of the QuickTub Cap®.
What is the

Step-In Height?
Our standard inserts reduce the step in by almost 9 inches; e.g., if the height of the outer apron wall of your tub is 15", the step in would be approximately 6" (15" - 9"). To determine how high your step in will be, measure 9 inches down on the outside wall of your tub. With a Sharpie or a strip of masking tape, mark this point. This will be the height of your tub step-in.
On some soaking tubs made of acrylic or fiberglass and having front walls 16" and taller, we may be able to reduce the step-in by another 4 - 5 inches more. For these situations, it is best to contact us and discuss your tub.
No, since we do not cut down to the floor of your tub. Our process leaves a small (3"-5") lip on tub's inside wall. With the shower curtain extending below this lip, both the shower spray and run-off water are contained within the confines of your tub. Incidentally, some homeowners find this lip high enough for bathing their grandkids and/or dog.
How

Long Does

the Process Take?
Depending on your tub's composition (fiberglass, steel or cast iron) and other factors (e.g. removal of shower doors, caulk, fixtures, etc.), our bathtub conversions usually take less than a half day. You can shower within in 24 hours or bathe (door models) in 48 hrs.
Can You Convert

Cast Iron

Bathtubs?
Yes. And apart from garden, Jacuzzi and old-fashioned claw-foot tubs, most bathtubs (in a 3-wall alcove/niche) can be converted into walk-in showers. See: tubs we don't convert. We also convert cast iron tubs with liners (i.e. Re-Bath®, Bath Fitter®, lined etc.).
How Can I Determine Whether My Bathtub is

Cast Iron?
Bathtubs installed prior to the 1960's are more likely to be cast iron. Cast iron and some steel tubs generally have porcelain coatings. I can usually determine whether your tub is steel or cast from a picture. See our Photo Gallery tab.
Can We Have

Glass Shower Doors

Installed After Our Installation?
We don't install glass shower doors on our converted units, nor do we advise seniors to have them. But if you decide that you want them, there are area glass specialists who are willing to oblige. FYI, I've had clients install glass doors only to have them removed years later because they interfered with the caregiver's ability to bathe the senior.
Does the Step-In Insert Have to Be

Centered on the Tub?
No. When practical, we advise the client to place their opening towards the faucet end of the tub. Having it here, allows room for a bath chair (or bench) in the rear of the tub should they eventually need one. In the end, either the homeowner or the bathroom layout determines where the placement will be made.
While most seniors choose to replace their tubs with a walk-in shower, we realize that there are some one-bath households that still have a need for bathing. For these clients, we have models that will quickly reverse the tub back to bathing. For example, our QuickTub® insert line has an optional panel that can be purchased to provide bathing. Learn more at Tub to Shower Conversions with Bathing Options.
Will a Walk-In Shower Conversion Affect my

Home Resale Value?
For us, this is always a disturbing question, since the same could be asked if you were to do a complete remodel. When it comes time to sell the home, we suggest that the realtor put into the sales agreement "Owner willing to restore bathtub to bathing" (and maybe even post a note to that affect in the bathroom). See next FAQ.
Is the Conversion Process

Reversible?
With a QuickTub® Walk-thru insert, you can purchase a cap/panel that covers the opening and restore the tub back to bathing in seconds. Otherwise, it may be possible to remove the insert and install a tub liner (e.g. Bath-Fitter®, ReBath®, etc.) over the cut-out area.
Mobile Home

Considerations
We have converted hundreds of tubs in mobile and manufactured homes. In both types of structures, we usually find conventional types of tub with much lower aprons (outer walls). Because of this, mobile home shower conversions generally end up with tub step-ins of from 3" to 5".
We have been doing bathtub to shower conversions since 2005. We are an insured family business with high marks across various business rating venues. I joined my father in 2010 and he now assists me. We treat every job and client as though we are doing it for a family member. See About Us page.
Our tub to shower conversion service area extends within a 60-mile radius of Cleveland, Ohio. However, we have satisfied clients in the Sandusky, Warren, Wooster, Youngstown, Erie and western PA communities. If you live outside these areas, please complete our Contact Us page and we can put you in touch with an installer in your area.
What's the

Warranty

on Walk-In Showers?
Our step inserts are warranted for 5 yrs.; Caulking 2 yrs.; call for details. (FYI, since 2005, no one has yet filed a warranty claim).
Have ??? Not Covered Here?
Please feel free to call us or complete our Contact Page should you have additional questions or require further clarification of the subjects covered here.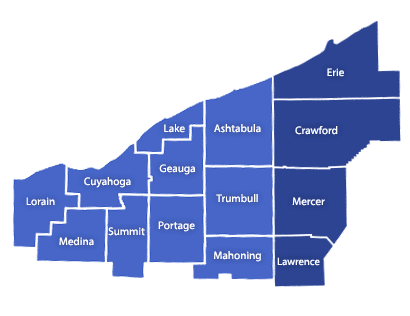 Our service area extends throughout Akron-Canton-Medina, Cleveland, Parma, Shaker-Cleveland Heights, Lorain-Elyria, Youngstown, Erie PA and nearby communities.
Stair lift and grab/safety bar installations, sales and service offered in nearby NE Ohio communities within a 40 mile radius of Mentor, Ohio. For details, call Jim at: 440-667-8827.
Ohio Walk in Showers Photo / Idea Gallery
Click on the Topic Boxes Below & Learn More