Cleveland & NE Ohio Ameriglide & Harmar Stairlifts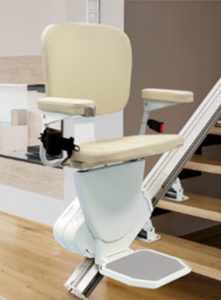 Our NE Ohio Stairlift Service
Clevelanders! Call for your free, no-hassle stair lift estimate! A few questions, 5 minutes and presto - your ballpark cost; no intrusive home or store visit required!
We're a local Cleveland area stairlift dealer, there for you throughout the entire process. The family member who quotes you, will visit to verify your quote, clarify questions and be there on your install. No 3rd parties, so there's no "he said / she said drama."
As for quality and price, our American made Harmar stair lifts are ranked among the top 2 & 3 in the industry, plus we usually beat most competitor prices. And if you're just starting your stairlift investigation, become a wiser buyer by clicking on the Cost & FAQs button below.
When you're ready to talk, and receive your free, no-hassle, over-the-phone-estimate, c
all
Jim
at:
440-667-8827
.
How Our Stair Lift Business Evolved
Several years ago, we recognized stair lifts to be a complimentary addition to our senior home safe-proofing services. After an extended period of visiting dealers, comparing options and studying internet reviews and customer complaints, we arrived at several conclusions 1:
For the most part, stairlifts are all pretty much identical.

All new stairlifts sold in the US are subject to meet the same government regulations regarding load, speed, safety, etc. requirements.
Aside from some optional features, all stair lifts are pretty much the same2.

The disconnect in the supply chain (sale-installation-servicing) is the biggest consumer complaint with many stair lift companies.

Brick & mortar stair lift dealers have declined over the past 10 years.
Many stair lift companies use the internet to channel inquiries into a central call center.
Call center inquiries are passed off to an area sales rep, who is only paid on a sale. Once the contract is signed, you are the "sale," not necessarily a client.
Orders are then passed over to a third party subcontractor (oftentimes a handyman) for scheduling and installation.
Once the subcontractor is done, he bills the third party. Where is his allegiance?
Who along this process has a real commitment to you?

Most units run without major problems for years when:

Operated properly (not exceeding the unit's load capacity) and,
Maintained regularly (track cleaned and lubricated).

We needed control over the entire supply chain process (sales, installation and service) to provide the level of quality and customer satisfaction required to be successful in the stair lift industry.
After our investigation, we decided on Ameriglide, a North Carolina stair lift company since 2001. While they are primarily a DIY stair lift retailer, we applied for a FULL SERVICE dealership. By being a full service family business, we can assure you that the person with whom you speak with during the sale, will also be part of your installation team and will always be available for any post-sale inquires and support.
1 Our conclusions were drawn from on-line postings of stair lift purchasers' experiences:
Lack of Post Sales Support - e.g. information break-downs regarding order status, delivery & installation timing, as well voids in post installation support.
"Installers from Hell" - e.g. unprofessional; inexperienced or rude installers who made the homeowner uncomfortable.
DIY Installers Tended to Bring a Brand's Overall Ratings Down. When DIY'ers found instructions incomplete and/or call-in support lacking or slow, they tended to post negative comments. Postings such as "Lift didn't work properly" or "Plugged it in and nothing happened", were unclear as to whether the unit, the instructions or the DIY'er was at fault.
2 Mobility Basics, 2017