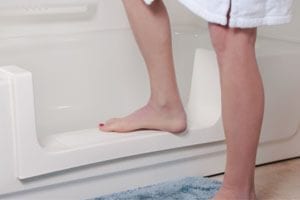 Converting most existing bathtubs into a safe and accessible step or walk-in shower can be very fast and affordable.
Our tub to shower conversion process avoids the aggravation, mess and cost of a bathroom remodel.
In just one day, we cut and remove a section from the front wall the existing tub and cap it with a step-in insert.
This lower threshold provides much safer accessibility to the bathtub's shower.
And as for affordability, when compared to a conventional bathroom remodel, tub cut cost savings can be as high as 80+%.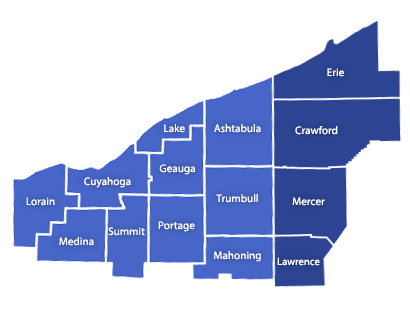 Our service area extends throughout Akron-Canton-Medina, Cleveland, Parma, Shaker-Cleveland Heights, Lorain-Elyria, Youngstown, Erie PA and nearby communities.
Stair lift and grab/safety bar installations, sales and service offered in nearby NE Ohio communities within a 40 mile radius of Mentor, Ohio. For details, call Jim at: 440-667-8827.
Ohio Walk in Showers Photo / Idea Gallery
Click on a photo to see more pics.