Tub to Shower Conversions
Using your Existing Bathtub
Call Jim now for a free quote!

Tub to Shower Conversion vs. Tub Replacement:
Affordable: 80-85% LESS than most tub to shower replacements-remodels
Fast: 3-5 hr. professional installation
Step-in Heights Reduced to 5-7 inches
Reversible: to bathing in most cases
Door Options Available for bathing
15 yrs. of Satisfied Seniors
Local 5-Star BBB Provider
Advantages of a Tub to Shower Conversion
Converting NE Ohio Cleveland area bathtubs into a walk-in shower doesn't require a costly tub replacement or bathroom remodel. Our tub to shower conversions are priced at a fraction of the cost of a Bathfitter remodel!
Tub Cut
Our 1-day tub cutting process avoids the aggravation and mess of remodeling. We begin by cutting out and removing a section from the front wall of your existing bathtub. Into this opening, we custom fit and seal an acrylic step-thru insert to provide a factory-supplied look.
With your tub's step-in reduced, you'll have safer accessibility to your showering needs; giving you, your love-ones and caregivers greater peace of mind - all thanks to our non-evasive tub make-over system.
Our tub to walk in shower modifications are applicable to most bathtubs, including cast iron (porcelain) tubs. Our service area extends westward from Parma Heights to Lorain-Elyria, south to the Akron-Canton & Medina areas and east from Mentor to the communities of Youngstown and into Erie PA. Call us today for a free over-the-phone estimate.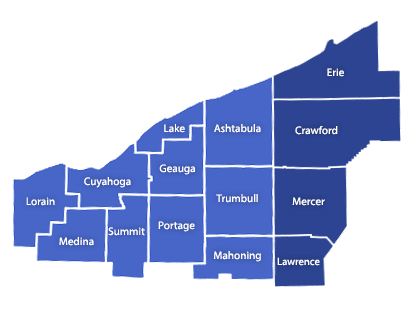 Our service area extends throughout Akron-Canton-Medina, Cleveland, Parma, Shaker-Cleveland Heights, Lorain-Elyria, Youngstown, Erie PA and nearby communities.
Stair lift and grab/safety bar installations, sales and service offered in nearby NE Ohio communities within a 40 mile radius of Mentor, Ohio. For details, call Jim at: 440-667-8827.
Ohio Walk in Showers Photo / Idea Gallery
Click on a photo to see more pics.