Our Horizon Plus is one of the industry's most affordable & reliable straight-run stairlifts on the market. Mounted on the stairs, our Horizon Plus provides a load capacity of 300+ lb. and battery-back for power outages. It minimizes stair space, while tastefully blending into your home's decor.
The Horizon Plus conforms to all US Federal safety regulations and is backed by Ameriglide in Raleigh, NC with a 5 yr. drive & 2 yr. components warranty.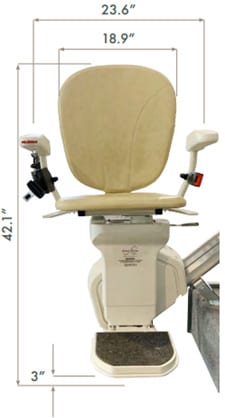 Standard Features
308 lb. transport capacity
Battery back-up during electrical outages
Safe rack & pinion drive [no belts] with OSG*
Mounts on the steps, not on the wall
Simple up-down joystick operation
Digital diagnostic display (on armrest)
Generous 19" – 21" inside armrest seating
Arms & seat fold to within 13.5" of the wall
Lever to raise-lower footrest (no bending)
Two wireless call-send transmitters
Key to lock out unauthorized use *
Top of stairs seat swivel & safety lock *
Retractable seat belts *
Obstruction sensors on footrest & carriage *
Track length 14.75 ft.
Warranty: 5 yr drive / 2 yr parts
* Safety features
Optional – above features plus:
Choice of seat colors & styles
Power seat swivel
Folding (hinged) bottom rail
Ameriglide


Horizon Plus
Features
Ameriglide


Horizon Plus
Features
Standard Seat Cushion1
(beige)
1 Standard seat cushion (shown above) is also available in other color choices as shown with the Ergo Plus seat cushions shown to the right..
Ergo Plus Seat Cushions
(available in these colors & beige)

2 These "home-plate" designed Ergo Plus seat cushions provide more comfort for people with short legs. They also reduce the lift's footprint on the stairs by almost an inch and are available in 4 colors.